High Performance CNC Router
Available models: P2-408HP, P2-510HP, P2-710HP, P2-714HP
P2 HP is a heavier, faster, higher performing ATC CNC System, it is heavy-duty CNC machining solution on rigid sheet materials of strong thickness, in the fields of plastic, aluminium processing, composite materials with high mechanical properties.
Gallery
Features

XYZCAM engineering designed structure D; an internally-reinforced frame providing the best dynamic rigidity and stability during rapid feeding and heavy cutting, vertical servo motor assembly long axis for more space saving.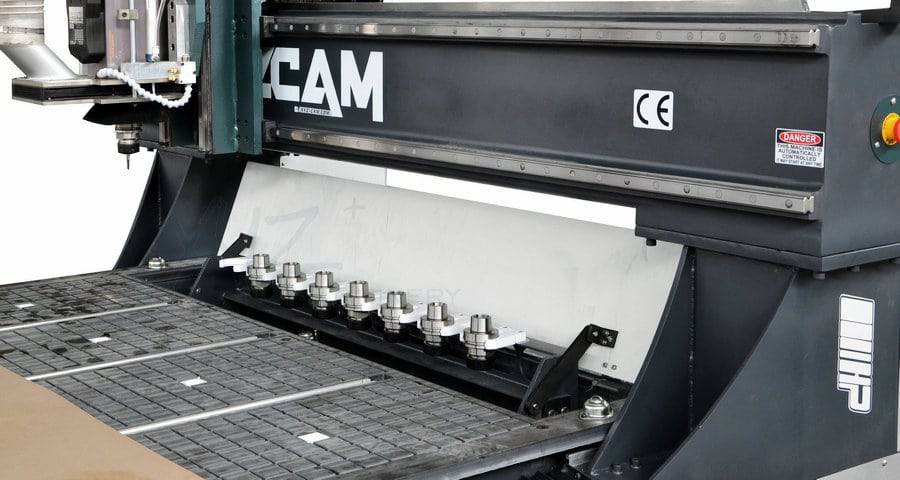 Pop-up tool magazine desgin to fulfill the material loading demand at rear of working table, as well as a higher grade dust proof.
Latest CNC Controller, features high-speed, high-accuracy capability combined with state-of-the-art hardware, including ultra high-speed processors, high-speed CNC internal bus, greatly improving the CNC`s performance,SYNTEC, FANUC, SIEMENS for option.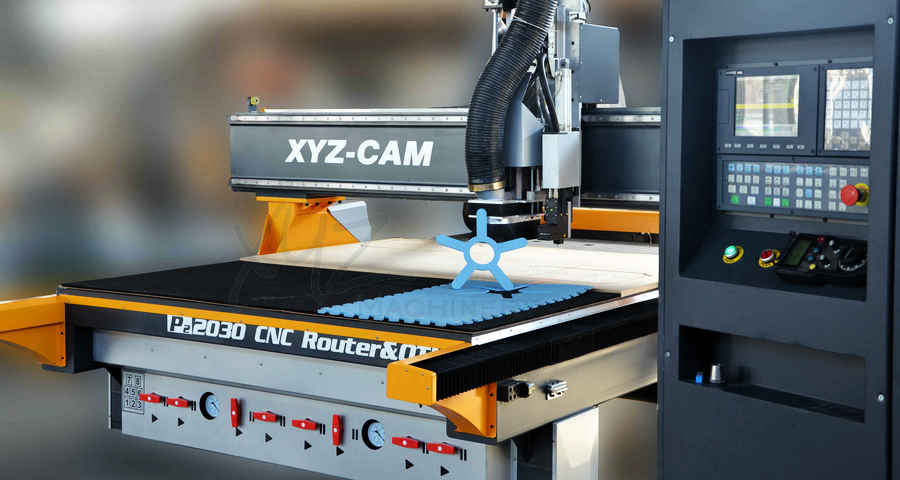 Maximum versatility, professional cutting head mounting along with routing spindle, tangential, oscillating or even creasing tool, multi-purposes to handle both hard and soft material by one machine!
Optional: material alignment pins on X- and Y-axis
Optional: fully aluminum working table
Optional: Ivision vacuum cleaner
Optional: an energy saver, vacuum pump & dust collector power controllable by G code for energy saving.
Special P2 HP aluminum CNC milling machine.
Specifications
Features

Specifications

Model

408(1325)

510(1530)

710(2030)

714(2040)

Table Size

1330x2540mm / 52″x100″

1590x3050mm / 62″x120″

2100x3050mm / 82″x120″

2100x4100mm / 82″x160″

X,Y Working Area

1270x2540mm /

4´2〞x 8´4〞/

50″x100″

1524x3048mm /

5´x 10´/

60″x120″

2032x3048mm /

6´8〞x 10´/

80″x120″

2032x4064mm /

6´8〞x 13´4〞/

80″x160″

Z Stroke

304mm/12''

Table Structure

Vacuum + T slot

Transmission

Helical rack and pinion on X axis Y, ball screw on Z axis

Driving Mode

Heavy duty AC Servo coupling gear reducer

Max Idle Speed

90m/min

Max Working Speed

50m/min

Spindle Motor

High Frequency Air Cooled, 9.0KW/9.5KW ATC (4.5KW, 12.0KW for option)

Working Mode

24000r/min

Working Voltage

AC380V

Tool Magazine

Linear array 8 -10 positions (Taiwan-made carrousel & umbrella type tool magazine)

Command

G Code

Interface

USB, CF Card, Ethernet

Software

Artcam, Type3, Fusion 360, Cut2D, Madcam