4-Axis Simultaneous CNC Router with movable work table and B-axis
Available Models: P4.2-408, P4.2-510, P4.2-710, P4.2-714
P4.2 Machine owns special B axis structure, designed for side milling, drilling, grooving, arc & blended surface machining, 3D processing…
Gallery
Features
XYZ engineering designed Structure D, combined with high-grade THK linear guides and ground prior helical rack & gear transmission, achieve exceptionally high levels of stability with regard to torsion resistance and vibration.
XYZ patented B axis structure design, spindle rotation Max ±110 degrees.
Industry leading multi axis simultaneous controller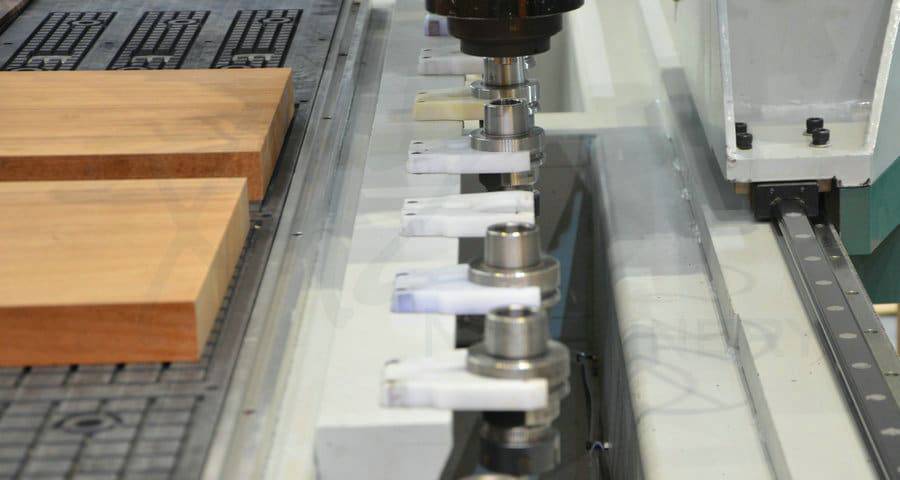 Auto tool changing function, significant simplification of machine operation.
Possibility of using various aggregate tools for option.
Special tailor-made Guitar Processing Machine, dual 4 axis simultaneous with B axis plus A axis (rotary device).
Specifications
Features

Specifications

Model

408(1325)

510(1530)

710(2030)

714(2040)

Table Size

1330x2540mm / 52″X100″

1590x3050mm / 62″X120″

2100x3050mm / 82″X120″

2100x4100mm / 82″X160″

X,Y Working Area

1270x2540mm /

4´2〞x 8´4〞/

50″x100″

1524x3048mm /

5´x 10´'/

60″x120″

2032x3048mm /

6´8〞x 10´x 1.67'/

80″x120″

2032x4064mm /

6´8〞x 13´4〞/

80″x160″

Z Stroke

406mm/16''

B axis Working Area

Max ±110 degree

Table Structure

Vacuum + T slot

Transmission

Helical rack and pinion on X axis Y/ precision ball screw on Z axis, high-grade THK guide rails

Driving Mode

Heavy duty AC Servo coupling gear reducer

Max Idle Speed

90m/min

Max Working Speed

40m/min

Spindle Motor

High Frequency Air Cooled, 9.0KW/9.5KW ATC (4.5KW, 12.0KW for option)

Working Mode

24000r/min

Working Voltage

AC380V

Tool Magazine

Linear array 8 positions (Taiwan-made carrousel/umbrella type for option), T position for aggregate Tool

Command

G Code

Interface

USB, CF Card, Ethernet

Software

 MadCAM, Fusion360,Alphcam,RinoCAM